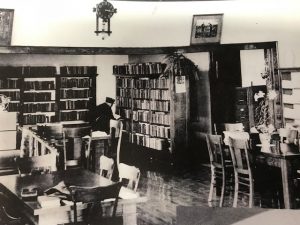 The first library in Colfax was a "travelling" book shelf started by the Ladies' Reading Club in 1904. While usually kept at the post office, this twenty book collection circulated around the community as needed. It was the only (public) access to books Colfax residents had until the opening of their own public library in 1916. Colfax's newly constructed Municipal Building on Main Street included a library space, and remains the home of the Colfax Public Library to this day.
Over the years, a series of visionary women headed the library. A plaque in the library commemorates the following directors:
Jennie Rosenberg, 1923 – 1950
Alice Hawkins, 1950 – 1967
Elaine Hammer, 1967 – 1980
Gail Svee, 1980 – 1991
Amy Podmolik, 1991 – 1993
Mary Larson, 1993 – 2000
Lisa Ludwig, 2000 – 2015
In 2003 the Colfax Municipal Building was placed on the State Register of Historical Buildings, and in 2004 it was added to the National Register.
During the tenure of Director Lisa Ludwig, the library card catalog was digitized and the Colfax Public Library joined the MORE consortium.